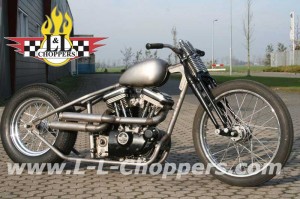 L&L Choppers announces new frame in the attacKIT series!
L&L now offers a new, short model frame for Evo Sportster engines.
It's a single downtube hardtail frame with a slightly larger neck angle.
attacKIT Single Downtube frame for Sportster
Due to the single downtube your chopper gets an even more classic appearance.
For all the rest the attacKIT concept remains the same like with the Bobber and/or Chopper edition.
Which means you can almost use every single part from your stock Evo Sportster to assemble a kick ass chopper.
That's the way to keep the costs very low and give your Sporty a complete different look.
Call or mail for more info! +31 226 351955