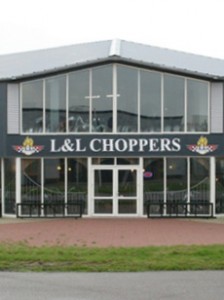 Located in a brand new building on industrial area "Veken" in Opmeer, the Netherlands, L&L Choppers is the shop for the chopper– and custom bike builder.
We love choppers since day one and we try to fullfil an increasing need for chopperparts at excellent quality and affordable prices. Custom bike building is hot !
Custombikes, and especially Choppers, are more popular than ever.
Thanks to Discovery channel. L&L Choppers established its name with a large range of Swedish chopper parts. And due to our efforts we've made the Swedish longbike popular in the Netherlands and in Belgium. Our experience with choppers goes way back.
With a lot pleasure and interest we see all developments and novelties come by, and we adjust our line products accordingly on a frequent basis. We have parts for every bike builder, no matter what style you like. Like our special and always growing line of Bobber products. Many Drag-style and Streetfighter parts can be found with us. High-tech and exclusive design parts, and the latest/newest parts for the US Chopper lover. Also for your USA B-movie style bike you can get your parts at L&L Choppers. 
Besides being the main supplier of cool and exclusive foreign made aftermarket products, L&L is developing and manufacturing their own product line non stop. You can think about the L&L forks in many styles, several forward controls in aluminium and stainless steel, risers, oiltanks and hand made gas tanks. Much attention for details, quality and finish is paid in order to meet the European bike builders requirements. Not at least, L&L maintains an affordable pricing. L&L Choppers delivers anything you might need to build your complete bike. Frames, wheels, brake– and oil lines up to every nut and bolt you can imagine. Besides that, we do not only deliver all the parts, we also will help and advise wherever we can.
The choice of existing products is enormous, but if you can't find what you're looking we might probably be able to make it for you. We always make our own exhausts and also our frames are fabricated according your wishes. Anything is possible! We've already made numerous frames in all sizes. Our core business is to deliver parts for the man/woman who builds his/her own bike. That's how it all started. As time went by, we got more and more requests to build complete bikes for our customers. For those customers, without time, space of knowledge to build a bike themselves. The possibilities are unlimited. We've built bikes in all known styles and in our shop you'll find bikes in many stages of completion. We build bikes with tase, knowledge and always with the customers approval. Driveability and reliability come at first place. No matter how extreme we build.
Nevertheless, building for customers is limited in order to maintain exclusivity and quality.  As said before, L&L Choppers serves the man who builds himself first. In several magazines we've showed how to build bikes from scratch with limited tools and low budgets.
L&L Choppers is here for you. Builder and chopper addict. We're waiting for you with loads of parts, advice, experience and enough coffee. Visit our shop, a visit worth as it is designed in Viking style to show our creativity. Come and see for yourself.
L&L Choppers Crew.