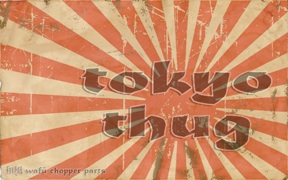 The Tokyo Thug lijn is totaly Japanese and  available exclusively at L&L.
These parts are coming straight from the heart of cult chopper country # 1 Japan!
Doing business with Japan is not easy. Nevertheless, Japan is by far a chopperminded country and currently delivers the most exclusive and special parts.
In general the Japanese are inspired by the good old American chopperscene from the past.
They pick out the most extreme examples from that culture to give it their interpretation. It's not a coincidence the Frisco style is very popular in Japan.
Just like the Californian metropoles, Tokyo the perfect place to ride a chopper in a specific style.
The Japanese adapted the Frisco style and Tokyo Thug is a company specialized in that area.
With these parts you can build an ultra narrow light weight citybike which is easy to ride, agile, and manouvres you through traffic jams.
Recently L&L became exclusive distributor for Tokyo Thug and we're very proud to be.
From now on you can buy these parts…simply at L&L Choppers.
Tokyo Thug narrow handlebars at L&L.
Driving your Japanese style chopper through heavy traffic. You can do that with Tokyo Thug parts.
We distribute those handlebars and do have them in stock. The handlebars are extra narrow and have a classic Frisco appearance caught with a Japanese touch.
L&L sells the Speedstick as well as the T-bar, and the C-bar. They come with/without dimples and are applicable for home build or stock bikes. They perfectly match to your attacKIT as well !
Tokyo Thug non-skid seats
Every Old Skool project deserves a pan seat.
L&L offers them in al shapes and sizes.
As most of these choppers are build to ride hard, you don't want to skid off the seat. That's what Tokyo Thug's crew must have thought when they developed their seat pans. Tokyo Thug seats are covered with laced heavy duty leather and have an upswept rear to make sure you won't slide off! Even at full throttle! Available in distressed brown or black leather.
The seat pan itself is also available to cover it with your own design. Besides the non-skid seats Tokyo Thug offers replica Indian racer seats. All Tokyo Thug parts are available at L&L.