Owner Jeroen says:
A Biker for 24 years…….I have always been riding a custom style motorcycle.
Not a Harley but certainly the type. Now the circumstances appeared to make the dream reality. I am a long time fan of the bobberstyle. Finally I decided to make the dream come true with cooperation of L&L.
Due to the fact that I like to ride a lot of miles, the choice came down to a softail instead of a hard tail, what, in fact for me, is the essence of a bobber . But sometimes you have to make concessions for riding comfort. That is also the reason for the 200 rear tire to ride  corners more easily. A slightly wider angle on the front springer, with the biggest possible wheel to match the back, creates a better esthetic line. The short fender is chosen to show the 200 rear wheel. Definitely my vision. From the start it was clear to me that chrome is not an option. I'd rather drive, than wash my bike. The engine is from the donorbike and is a standard 1200 sportster with 5 gears. The exhausts are deliberately kept long to give it that long look and because I am not a small man.
Because I like smooth round lines, the fender struts are curved . The rest of the bike is kept minimalistic. The handlebars give a more upright seating position wich gives it a more comfortable riding position. The colors will be chosen in a later stage but will be in accordance with the base color of the rear wheel.
All together the bike I imagined is being realized.
In loving memory to those who are no longer here to see the dream come true.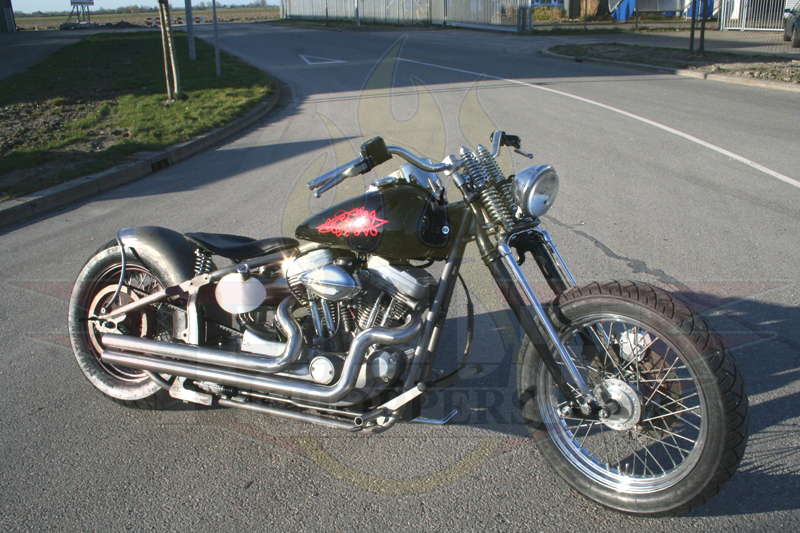 This is the story of Jeroen.
Do you want to share your story? Let us know!