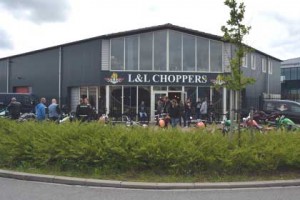 L&L Choppers
Veken 244
1716 KJ Opmeer
The Netherlands
P +31(0)226-351955
www.L-L-choppers.com
Voor vragen svp bellen!
Openingstijden:
Dinsdag op afspraak.
Woensdag t/m Vrijdag: van 10:00 uur tot 17:00 uur
Vrijdagavond: Uitsluitend op afspraak.
Zaterdag: van 10:00 uur tot 17:00 uur
Route:
A7 Richting Hoorn/Leeuwarden
Afslag Wognum/Opmeer
Bij Industrieterrein "De Veken" stoplicht rechtsaf.
Einde links
Einde links, L&L ingang is op de hoek !
Slechts 50 km / half uur vanaf A'dam !

L&L Choppers Rijen-Brabant


Hoofdstraat 143


5121 JD Rijen
The Netherlands


P +31(0)226-351955

Uitsluitend op zaterdag te bezoeken.